Lastfartyget S/S Brage (nr 38, 1883)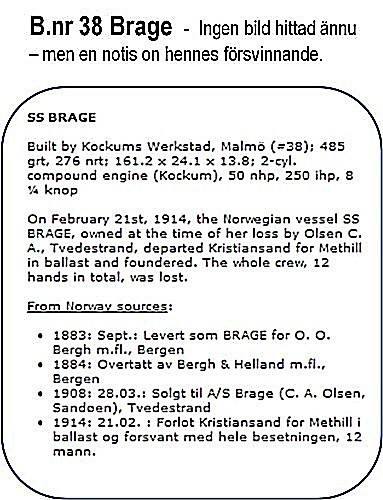 En notis om Brages försvinnande:
SS Brage
Built by Kockums Verkstad, Malmö (=38)
485 grt, 276 nrt,
161,2 * 24,1 * 13,8
2-cyl. compound engine (Kockum)
50 nhp
250 ihp
8 1/4 knop
On february 21st, 1914, the Norwegian vessel SS Brage, owned at the time of her loss by Olsen C. A., Tvedestrand, departed Kristiansand for Methill in ballast and foundered. The whole crew, 12 hands in total, was lost.
From Norway sources:
1883: Sept.: Levert som Brage for O. O. Bergh m.fl., Bergen
1884: Overtatt av Bergh & Helland m.fl., Bergen
1908: 28.03.: Solgt til A/S Brage (C. A. Olsen, Sandøen), Tvedestrand
1914: 21.02. : Forlot Kristiansand for Methill i ballast og forsvant med hele bestetningen, 12 mann.
Snabba fakta
Nr: 38
Art: s.s
Namn: Brage
Typ: Lastfart
Dw ton/Depl ton: 512 dw
Levererad 1883
Effekt Hk/MW 250
Beställare: O. Bergh, H. Meidell, Bergen